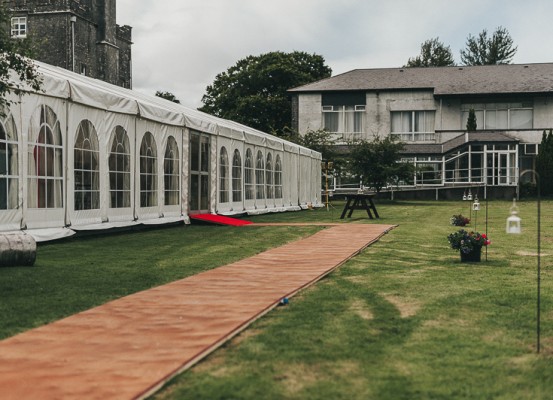 Whether you are holding a garden party in Co Mayo, a marquee wedding in Sligo or a corporate function in Galway, the Marquee Solutions team are here to ensure that your needs are dealt with in a professional and enthusiastic manner. The distinctive style of our marquees is complimented by our wide range of interiors that will reflect and enhance the atmosphere and image of the occasion, creating an unforgettable experience for guests and hosts alike.
Get in touch to see what we can provide you with for your special event. Hiring marquee across Ireland, we cater for long and short term hires all across the country.
www.marqueesolutions.ie
Call : 086 85 0 9595
enquiries@marqueesolutions.ie
Based in Ballina Co. Mayo with a presence in Lansdowne, Dublin and Sligo town we hire marquees and VIP luxury toilet units for weddings, functions and corporate events all over Ireland .
Sample 100 Guest Wedding Package
Our Wedding Marquee Package includes:
• Pristine White Marquee.
• Window Walls situated where required
• Ivory White Interior Drapes (roof and walls) & swags
• Raised, sub-structure Flooring system.
• Fully Carpeted
• 100 x Banqueting Chairs / Chavari Chairs.
• 13 x Round Tables (5ft round tables sitting 8)
Table cloths suitable for round tables
• 144 sq ft black and white chequard dance floor Dance Floor
• All Catering Tables
Uplighters (mood setting with variety of colors)
• Double Exit French Door Unit x 2
• Sound System For Speeches
• VIP Luxury Toilet Unit
• Generator Unit – Provided with fuel
• Catering Marquee (separate entity)
• Catering Marquee Lighting & Wiring
• Main Fuse Unit Cabling
• Interior Lighting
• All Sockets Wired
• Chandelier Lighting Control Unit
• 3m Bar Unit
• On Site Manager For Your Big Day
Marquee Solutions
Will supply all of the above for the great value price of €xxx, Inc Vat.
Arrange a free site visit and consultation…. Contact Philip Rowe +353 86 877 3635